Pinehurst – Southern Pines area is known as the Home of American Golf. These towns have some of the nation's finest golf and a legacy unlike any other place. Some of the most noted designers and architects such as Donald Ross, Arnold Palmer and Jack Nicklaus have designed courses in the area.
The most famous course is the Pinehurst #2 which was host to the 1999, 2005 US Men's Open and in 2014 made history when it hosted the US Men's and Women's Open back to back weeks. It will again in 2024 be host to the US Men's Open.
Pine Needles Lodge and Golf Club which is operated by Peggy Kirk Bell and her family, and was host to the 1996, 2001 and 2007 US Women's Open.
If you are a lover of the game of golf, you will want to visit the area to experience the wonderful history we have here in the Pinehurst-Southern Pines area.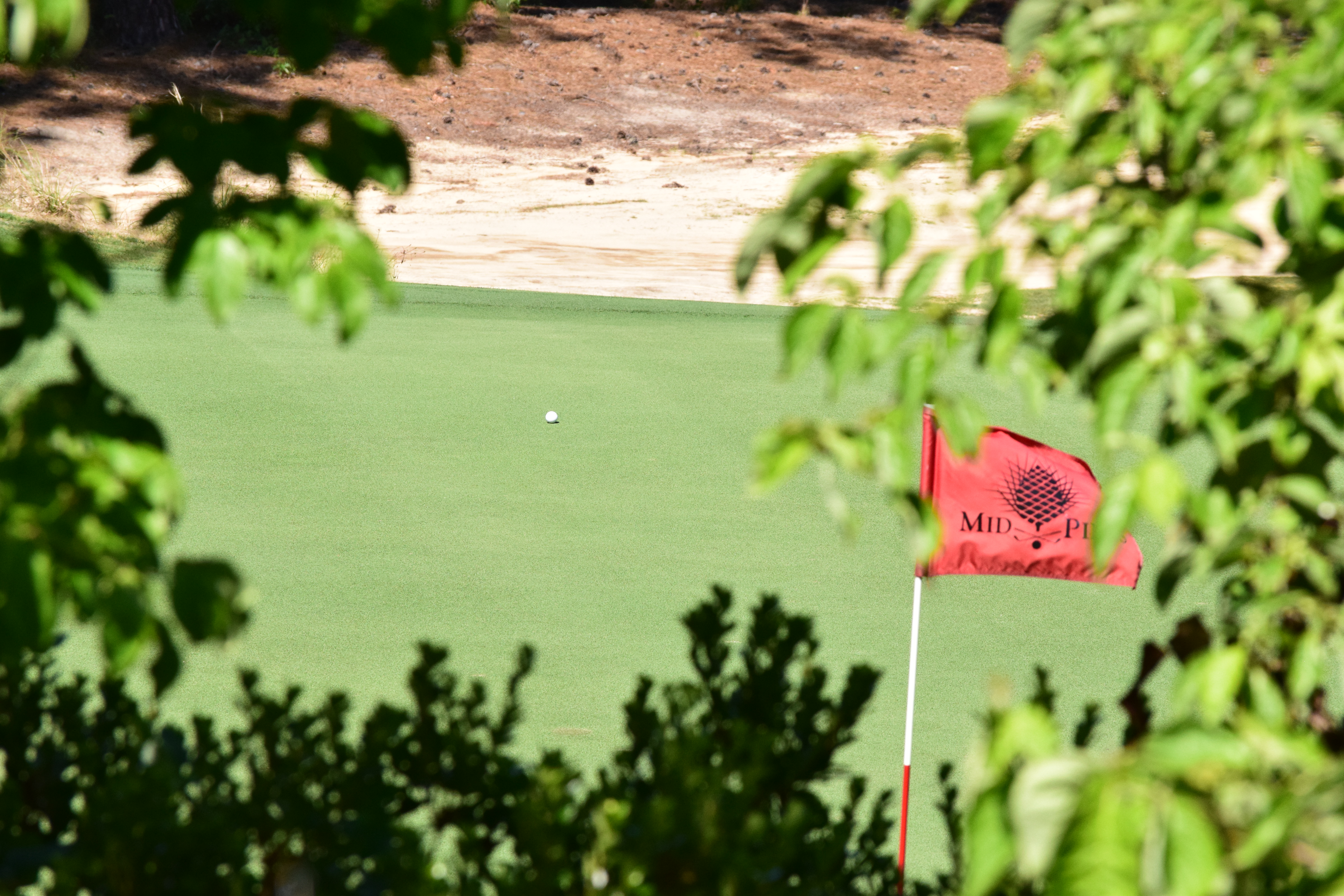 Golf Courses
Beacon Ridge Country Club – www.beaconridgecc.com Designed by Gene Hamm
Country Club of North Carolina – www.ccofnc.com Dogwood Course designed by Ellis Maples, Cardinal Course designed by Wiliard Byrd
Country Club of Whispering Pines – www.countryclubofwhiperingpines.com Pines Course and River Course designed by Ellis Maples
Deercroft Golf Club – www.deercroft.com designed by Gardner Gildey
Dormie Club – www.dormieclub.com designed by Coore & Crenshaw
Forest Creek Country Club – www.forestcreekgolfclub.com North Course and South Course designed by Tom Fazio
Foxfire Resort and Golf – www.foxfireresortandgolf.com Grey Fox Course and Red Fox Course designed by Gene Hamm
Hyland Golf Club – www.hylandgolfclub.com designed by Tom Jackson
Knollwood Fairways & Driving Range – www.knollwood-midland.com designed by C.A. Pitts (9 Hole course)
Legacy Golf Links – www.legacygolfnc.com designed by Jack Nicklaus II
Little River Golf & Resort – www.littlerivernc.com designed by Dan Maples
Longleaf Golf and Family Club (Home of US Kids Golf) – www.longleafgfc.com designed by Dan Maples
Mid Pines Inn and Golf Club – www.pineneedles-midpines.com designed by Donald Ross
Mid South Club – www.midsouthclub.com designed by Arnold Palmer
Midland Country Club - www.knollwood-midland.com designed by Tom Jackson (9 hole course)
Pinehurst Resort and Country Club – www.pinehurst.com
Course #1 designed by Donald Ross Course # 8 designed by Tom Fazio
Course # 2 designed by Donald Ross Course # 9 designed by Jack Nicklaus
Pineh
Course # 3 designed by Donald Ross
Course # 4 designed by Tom Fazio
Course # 5 designed by Ellis Maples
Course # 6 designed by Tom Fazio
Course # 7 designed by Rees Jones
Pinewild Country Club – www.pinewildcc.com Azalea Course (9 hole Par 3), Holly Course designed by Gary Player and Magnolia Course designed by Gene Hamm
Pine Needles Lodge and Golf Club – www.pineneedles-midpines.com designed by Donald Ross
Seven Lakes Golf Club – www.golf7lakes.com designed by Peter Tufts
Southern Pines Golf Club – www.southernpinesgolfclub.com designed by Donald Ross
Talamore Golf Resort – www.talamoregolfresort.com designed by Rees Jones
Tobacco Road – www.tobaccoroadgolf.com designed by Mike Strantz
Whispering Woods Golf Course – www.whisperingwoodsgolf.com designed by Ellis Maples
Woodlake Country Club – www.woodlakecc.com Maples Course designed by Ellis Maples
Palmer Course designed by Arnold Palmer